Welcome!

Welcome to Core Media!

Feel free to search our vast database of products or give us a call & one of our product experts will be more than happy to assist you. Whether you need custom t-shirts, printed posters, flyers, banners or cups or just a simple imprinted pen or flash drive we've got what you need.

Take it from your Inbox to ours!! Our goal is to brand your organization with pride and make the process stress free.

Call us!! We'll take it from here...

210-348-9763
Featured Item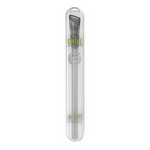 Chill™ Cooling Pour Spout (Clear/Gray)
Cool, pour and preserve with the Chill. Just pour the first glass, insert the cooling pour spout and enjoy perfectly chilled wine! After just two hours in the freezer, your Chill is ready to do the ha...

Signature Showrooms